Our feral pig removal process is the ideal solution for your feral pig problem.
If you can imagine how frightful it would be to have a large dog chasing you across your backyard, consider that a dog is generally around 100 pounds, but a feral pig can be three to five times that size and can sport tusks! While feral pigs do not wander around looking for a human to attack, they can achieve a speed of up to 30 mph if they feel threatened or believe their young are at risk. It isn't just this risk that should have you reaching out for feral pig removal if you see any in Wesley Chapel, Florida. It is also the intense damage they can do to your landscaping and irrigation system, and the diseases they can spread.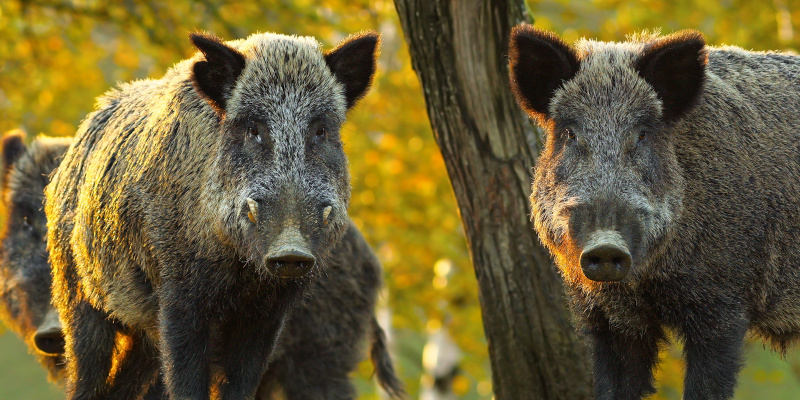 At Swine Solutions, we offer effective feral pig removal services. Our techniques have been developed to end the problem entirely. The only way to do that is to trap and remove the entire sounder (group of pigs) so none are left behind to repopulate the area. Our methods are safe for any area, as we do not use firearms of any kind. Our discreet feral pig removal services are ideal for communities, golf courses, and other population-dense areas.
If you are sitting back hoping that feral pig hunters will keep the population in check, we are here to tell you it doesn't work that way. We started hunting hogs about 15 years ago with dogs and can tell you first-hand that the feral pig problem is increasing at an alarming rate. We would love the opportunity to help you and explain why we are the best option to eliminate feral pigs in your area.
---
At Swine Solutions, we offer feral pig removal services in Riverview, Tampa, Brandon, Wesley Chapel, Valrico, Wimauma, Lutz, Land O' Lakes, Wiregrass, Meadow Point, Parrish, Lakewood Ranch, Bradenton, Sarasota, Venice, Myakka, Englewood, Kissimmee, Orlando, Clermont, and Davenport, Florida.