Our feral hog removal service protects your property from these destructive and potentially dangerous creatures.
Did you know that a mature sow can produce one or two litters, each with as many as 12 piglets, each year? Within a year, each of those piglets is ready to begin reproducing. Since their lifespan is between 4 and 8 years, even a small group of feral hogs can quickly become a huge population. Even if only a couple of these roughly 300-pound creatures begins digging up your yard, you can't exactly go out and just shoo it away.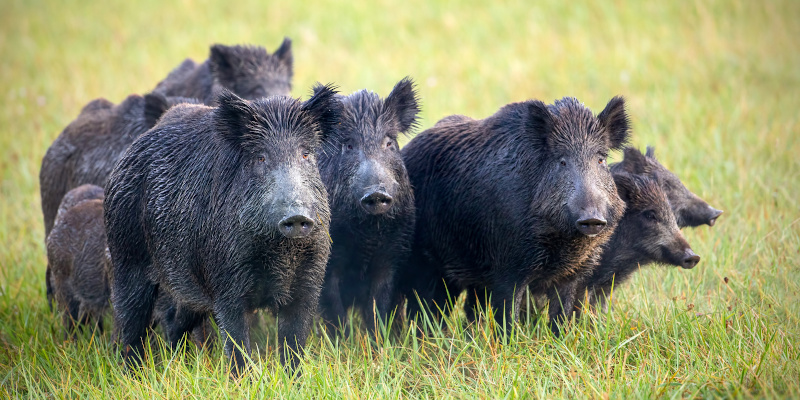 Keep in mind that those strong jaws can dig up compacted soil and crack hard-shelled nuts, not to mention breaking the bones of an animal they've decided to eat. Feral hogs rarely attack people, but they have been known to if cornered or feeling threatened. For your own safety, it is best to call us at Swine Solutions to request our feral hog removal service.
We have 15 years of feral hog hunting experience. We will not only remove the one you see, but the rest in its group that aren't far away so you don't get others wandering in later. It is rare for a feral hog to be by itself, although sometimes a mature boar will travel alone from time to time.
Our feral hog removal services have enjoyed a 100% success rate in the Riverview, Florida area. We utilize GPS cameras with night vision, trained K9s, and quality trapping systems. Our methods are safe and effective. We never use firearms of any kind that could pose a danger to people in the neighborhood.
Pigs have been in Florida since they were first brought here in 1539 by Hernando de Soto, and while domestic pigs are a delight on the grill, when they have gone feral in the wild, they are destructive and dangerous. Call on us to take care of however many feral hogs you have on and near your property.
---
At Swine Solutions, we offer feral hog removal service in Riverview, Tampa, Brandon, Wesley Chapel, Valrico, Wimauma, Lutz, Land O' Lakes, Wiregrass, Meadow Point, Parrish, Lakewood Ranch, Bradenton, Sarasota, Venice, Myakka, Englewood, Kissimmee, Orlando, Clermont, and Davenport, Florida.
Similar Services We Offer: