Without our feral pig removal services, your small group of destructive feral pigs could soon become a larger one.
With the popularity of potbellied pigs and keeping pigs as pets, it is easy to forget that a full-grown feral pig can be anything but a joy. If a 300- to 500-pound feral hog chases you at up to 30 mph, that isn't going to end well. Luckily, feral pigs rarely attack humans, but they are a menace nonetheless. They can uproot your landscaping, destroy your irrigation system, contaminate the ground and water, and spread disease. They don't breed like rabbits, but they do reproduce at a rate that means your small group of feral pigs could soon become a larger group.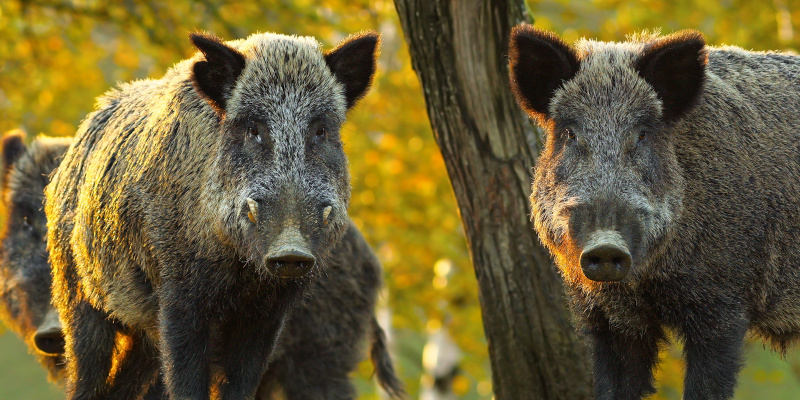 At Swine Solutions, we offer feral pig removal in the Riverview, Florida area. Our 100% success rate ensures that we will put an end to your feral pig problem by trapping and removing each and every feral pig in the immediate area. We utilize GPS cameras with night vision, trained K9s, and a bait and trap method. We do not use firearms of any kind as we believe our methods are safer and more discreet so as not to disturb or endanger anyone in the neighborhood.
We started hunting hogs about 15 years ago with dogs and came across the realization that the feral pig problem was increasing in our area at a fast rate. There just aren't enough hunters to keep up with their breeding habits. We aim to put a dent in the feral hog population to make our area a better place to live and work. Reach out to us today if your neighborhood or community is having a feral hog problem. We'll be happy to go over our feral pig removal process and give you an estimation of how long it will take to successfully trap and remove the group of feral hogs in your area.
---
At Swine Solutions, we offer feral pig removal services in Riverview, Tampa, Brandon, Wesley Chapel, Valrico, Wimauma, Lutz, Land O' Lakes, Wiregrass, Meadow Point, Parrish, Lakewood Ranch, Bradenton, Sarasota, Venice, Myakka, Englewood, Kissimmee, Orlando, Clermont, and Davenport, Florida.