Feral hog trapping requires more patience, planning, and determination than you might think.
It might seem like feral hog trapping would be a simple proposition – set the traps and the feral hogs will come. Unfortunately, it isn't quite that simple. Wild pigs are smarter than you might think. They rank quite high on animal intelligence charts, and they are naturally extremely shy of traps and are good at avoiding hunters, too.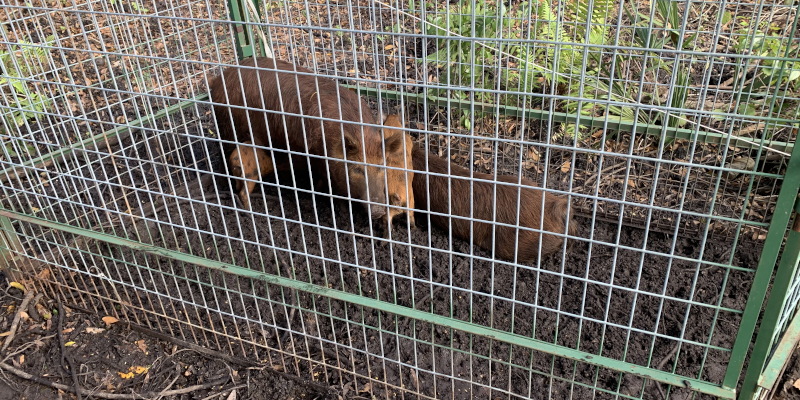 Because of the challenges involved with feral hog trapping, it isn't an overnight solution. If you have ever done any kind of hunting, you've probably returned from more than one hunt without successfully achieving your goal. You know that all wild animals can be crafty and evasive. Feral hogs are not an exception to this rule and can be even more difficult to trap. At Swine Solutions, we have an effective feral hog trapping process for eliminating the feral hogs that are damaging your Riverview, Florida property, but you should know that it can take several weeks to accomplish depending on the number of feral hogs involved.
We have developed a baiting system that conditions the feral hogs to think of the area where we will eventually set up the traps as a safe place to get some of their favorite foods. We can use a variety of baits, including whole shelled corn. If we are to remove an entire sounder (the name for a group of feral hogs) to put an end to the breeding cycle, we need to get all of them comfortable with the environment. An incomplete capture is not an effective solution as they'll just increase in numbers again and pose a future problem.
Before we move to the next stage of feral hog trapping, which is the placement of the traps, we need to consider the best way for the traps to trigger and the size of the trap needed for the sounder size. Feral hog trapping is not like trapping individual animals which is often done with box traps. If we were to attempt that method, we would only get a few of the feral hogs, and we'd be teaching the rest in the sounder that traps must be avoided, making it infinitely harder to get the rest of them.
There are several dangers involved with feral hog trapping, which is why it is best left to professionals. First of all, while feral hogs are not known to be particularly aggressive, they will defend their young and react adversely when threatened. When you consider a wild hog can weigh several hundred pounds and run at speeds up to 30 miles per hour, that isn't something you want to tangle with! We have to handle feral hog trapping with great care, because if we manage to spook them during trapping, they'll scatter and might avoid the area from then on. That leaves us to start the process of baiting over again in a new area.
If you are guessing that feral hog trapping is a chore, you would be right. However, we absolutely love it and we are good at it. We are proud to be a part of removing and controlling the feral hog population. We use state-of-the-art GPS camera systems, night vision, and trained K9s to effectively capture and eliminate feral hog sounders. Reach out today to learn more about our services.
---
At Swine Solutions, we offer feral hog trapping services in Riverview, Tampa, Brandon, Wesley Chapel, Valrico, Wimauma, Lutz, Land O' Lakes, Wiregrass, Meadow Point, Parrish, Lakewood Ranch, Bradenton, Sarasota, Venice, Myakka, Englewood, Kissimmee, Orlando, Clermont, and Davenport, Florida.