We recommend contacting us for feral pig removal at the first sign of a problem.
As the Orlando, Florida area continues to grow with a roughly 2% increase in population each year, it stands to reason that the surrounding rural habitat is infringed upon. That leaves wildlife with the challenge of how to survive. When talking about something like feral pigs that prefer to remain within a 6-square-mile area, what occurs is that they are more inclined to try to share the space with humans rather than relocate. That might work for them, but it sure doesn't for you!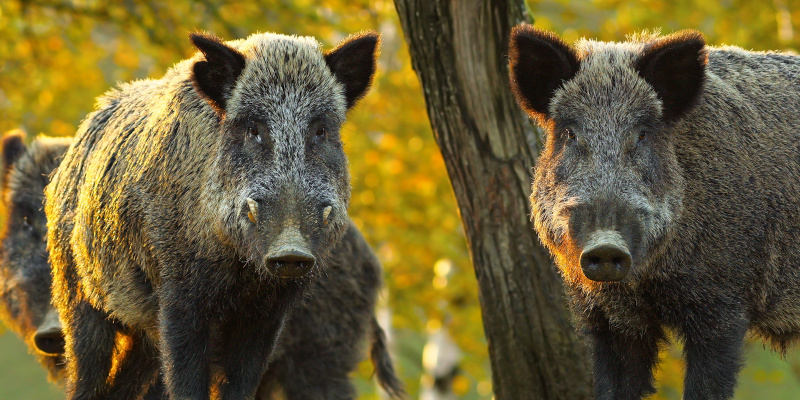 The only way the feral pigs will leave is with feral pig removal services. At Swine Solutions, we have a 100% success rate at removing entire groups of feral pigs so that none remain to repopulate. We can put an end to the continued damage and problems they create, such as uprooting your landscaping, contaminating the soil and water, destroying your irrigation system, and spreading disease.
It is wise to contact us for feral pig removal at the first sign of a problem. Feral pigs reproduce at a very fast rate, so your problem could get exponentially worse before you know it. We utilize GPS cameras with night vision, trained K9s, and a bait-and-trap method. We do not use firearms of any kind, as we believe our methods are safer and more discreet so as not to disturb or endanger anyone.
We are proud to be a part of controlling the growing problem of feral pigs in this area and welcome the chance to provide our highly effective feral pig removal services at your property or in your community. Reach out today to learn more.
---
At Swine Solutions, we offer feral pig removal services in Riverview, Tampa, Brandon, Wesley Chapel, Valrico, Wimauma, Lutz, Land O' Lakes, Wiregrass, Meadow Point, Parrish, Lakewood Ranch, Bradenton, Sarasota, Venice, Myakka, Englewood, Kissimmee, Orlando, Clermont, and Davenport, Florida.