Our feral pig removal service is your best option if you are experiencing a feral pig problem
The growing feral pig population is a serious problem. The pigs are quickly reproducing at a rate that hunters cannot even come close to keeping in check. In the past three decades, feral pigs have expanded their habitat from portions of roughly 17 states to perhaps more than 40, including here in the Brandon, Florida area.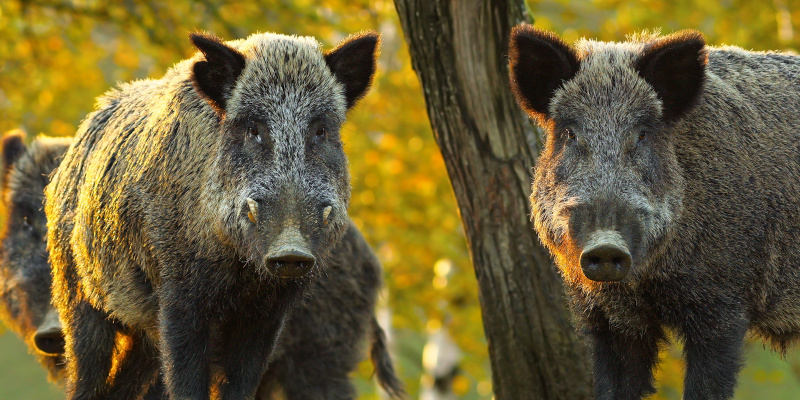 At the current time, there is roughly one feral pig for every 40 people. That might not seem like a large number, but with the damage they can cause to your property and the other dangers involved, something needs to be done. A feral pig population will not go away on its own. They are survivors that have come about because of swine brought to the United States in the 1500s as well as later ones introduced in the 1900s. Feral pigs are a combination of Eurasian wild boars and escaped domestic pigs.
At Swine Solutions, we took what was once a hobby of hunting feral pigs with dogs and turned it into a vital service for those in the area who are dealing with feral pig damage. We hope to put a dent in the problem here locally, and that other companies across the nation will also join in with feral pig removal services. We utilize an effective bait and trap method, along with trained K9s and GPS cameras with night vision to deal with an entire sounder of feral pigs. Once we are done in an area, there aren't any remaining that could reproduce and re-establish another menacing group.
With a 100% success rate, our feral pig removal services make us your best option if you are experiencing a feral pig problem in your neighborhood, development, farm, cemetery, golf course, or other property. Contact us today to learn more about our methods and get answers to any questions you might have.
---
At Swine Solutions, we offer feral pig removal services in Riverview, Tampa, Brandon, Wesley Chapel, Valrico, Wimauma, Lutz, Land O' Lakes, Wiregrass, Meadow Point, Parrish, Lakewood Ranch, Bradenton, Sarasota, Venice, Myakka, Englewood, Kissimmee, Orlando, Clermont, and Davenport, Florida.