Our feral hog removal service has a 100% success rate.
Many unwelcome visitors are relatively easy to eliminate by yourself when they show up at your Brandon, Florida home, business, or neighborhood. Feral hogs are not one of them. Something double to triple your weight isn't going to be dispersed with a flyswatter, bug spray, or water hose. At Swine Solutions, we offer feral hog removal service that will put an end to a sounder of feral hogs that is determined to damage your property, get into your trash, and frighten your children and pets.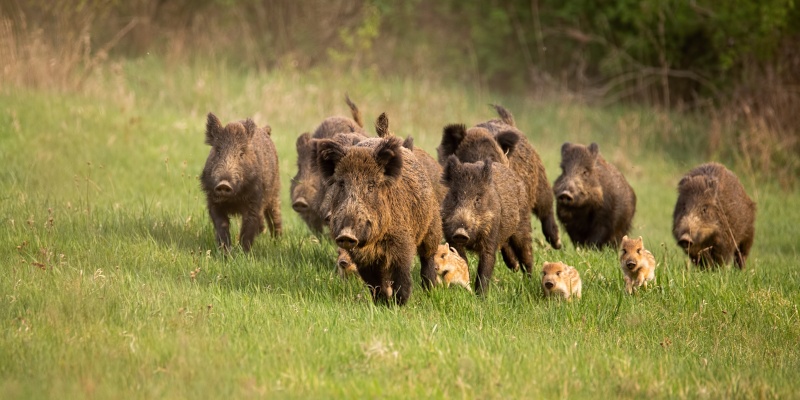 Just as a 300-pound feral hog isn't easy to control, they are also capable of causing extensive damage. Even a small sounder can turn an acre of property into a rooted-up mess in just an hour. Another issue is that they reproduce quickly, so without prompt attention by our professional feral hog removal service team, you could face a dozen or two more before you know it, and hundreds in just a couple of years. The key to avoiding this scenario is removing every feral hog in the area and that is where our services come into play.
We have to warn you that feral hog removal service isn't a single-day operation. In fact, it can take weeks, months, or even as long as a year to achieve complete success. We will stay involved until we have remedied your feral hog problem no matter what it takes so we continue to boast a 100% success rate. While we are committed to completely resolving your feral hog problem, we do draw the line at using firearms as that would not be safe for people in the neighborhood. We utilize safe and effective methods, including trained K9s, quality trapping systems, and GPS cameras with night vision. If you require feral hog removal service and have questions, don't hesitate to reach out.
---
At Swine Solutions, we offer feral hog removal service in Riverview, Tampa, Brandon, Wesley Chapel, Valrico, Wimauma, Lutz, Land O' Lakes, Wiregrass, Meadow Point, Parrish, Lakewood Ranch, Bradenton, Sarasota, Venice, Myakka, Englewood, Kissimmee, Orlando, Clermont, and Davenport, Florida.
Similar Services We Offer: