When you need effective feral hog removal service, just give our team a call.
Our team at Swine Solutions has extensive experience in feral hog removal, and you can count on us to keep your area safe from these aggressive animals. Over the years, we have received many questions about our work, and one of the most frequent questions we get is, "What's the difference between wild hogs and feral hogs?" The answer is that feral animals, while they live in the wild now, originally descended from domesticated animals—in other words, feral hogs originally descended from domestic ones used for livestock. This ancestry actually makes feral hogs more dangerous than some truly wild animals, as they are less fearful of humans.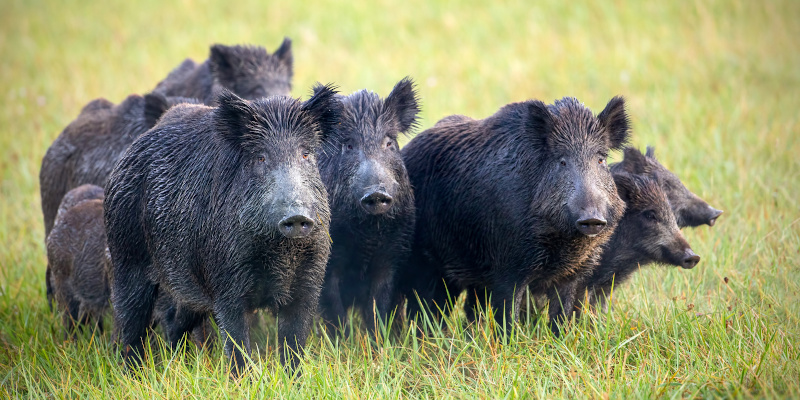 Feral hog populations are a persistent problem across much of the United States, but they are especially common in new housing developments, as the hogs in question still consider those areas to be their rightful territories. If you want to keep your neighborhood safe from the damage these animals can do, we encourage you to reach out to our team to get started with our feral hog removal service.
We use sophisticated surveillance cameras to first monitor the hogs' movements, and then we set traps and use K9 units to corral the hogs in that direction in order to capture them. Since we primarily work in populated areas, we never use firearms, but instead patiently capture the hogs a few at a time until they have all been removed from the area.
We are proud to serve the Lakewood Ranch, Florida community, and we want to help you keep your neighborhood safe from feral hogs. If you have seen wild hogs around your area, simply give us a call to get started with our feral hog removal service.
---
At Swine Solutions, we offer feral hog removal service in Riverview, Tampa, Brandon, Wesley Chapel, Valrico, Wimauma, Lutz, Land O' Lakes, Wiregrass, Meadow Point, Parrish, Lakewood Ranch, Bradenton, Sarasota, Venice, Myakka, Englewood, Kissimmee, Orlando, Clermont, and Davenport, Florida.
Similar Services We Offer: