Protect your property with our 100% successful feral hog removal service.
While feral hogs have been around in Florida for a very long time, they are more frequently causing problems for humans because of habitat loss and increased development of land that used to be wild or used in farming. Now that these areas are becoming more developed, for both residential and commercial purposes, it is not surprising that we are seeing more feral hogs. If you have noticed signs of feral hog activity on your property in Wesley Chapel, Florida, don't hesitate to call us at Swine Solutions to discuss our 100% successful feral hog removal service.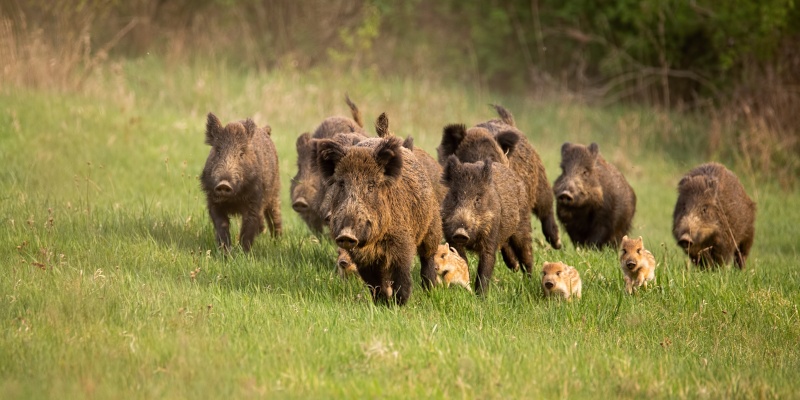 Your feral hog problem is not going to go away on its own. These animals tend to stay in the same 6-square mile area throughout their lives. A group of feral hogs is called a sounder and usually numbers about two dozen hogs, but they can be as large as 100 individuals or even more. Each female hog (called a sow) can produce 1 to 2 litters a year, with up to 12 piglets in each litter. With numbers like those, it is easy to understand how the populations of these animals can explode when not controlled.
Our feral hog removal service is an effective multifaceted approach. We have been in this business since 2006, and we understand how to remove and control feral hogs. One thing you need to know is that it often takes time to do the job correctly, but we have a 100% success rate, so you can be sure that we will get the job done. Call today to learn more about our feral hog removal service.
---
At Swine Solutions, we offer feral hog removal service in Riverview, Tampa, Brandon, Wesley Chapel, Valrico, Wimauma, Lutz, Land O' Lakes, Wiregrass, Meadow Point, Parrish, Lakewood Ranch, Bradenton, Sarasota, Venice, Myakka, Englewood, Kissimmee, Orlando, Clermont, and Davenport, Florida.
Similar Services We Offer: