We have a 100% success rate with hog removal.
There was a time when wild hog numbers weren't what they are today, and many in the Riverview, Florida area rejoiced at the ability to take advantage of the "free" pork that could be found. Unfortunately, wild hogs are now a real problem with the sheer number running around, making them a real nuisance. No longer are wild hogs considered an asset. Instead, they are destroying assets, including landscaping, sprinkler systems, and even underground water lines. At Swine Solutions, we are proud to be a part of the solution in controlling the wild hog population in the area.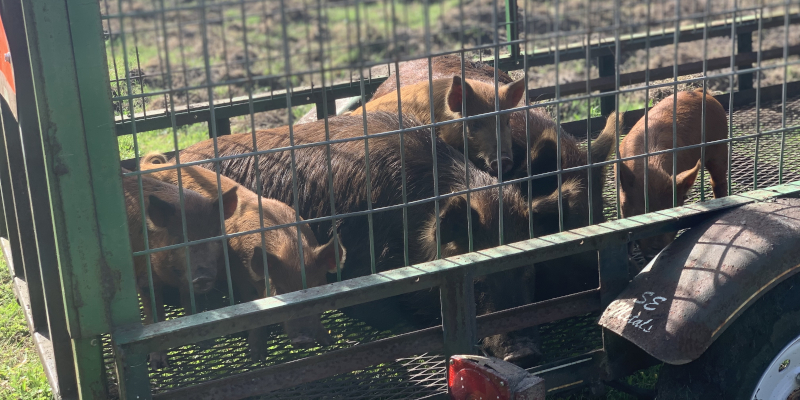 If you are noticing feral hog damage in your neighborhood, on your golf course, or elsewhere, give us a call to discuss our hog removal services. We use state-of-the art GPS camera systems, night vision, trained K9s, feral hog trapping, and any other means necessary to control and eliminate the feral hog population. We handle your hog removal very discreetly, so as not to concern the public or others that are sensitive to certain aspects of hog removal. We work efficiently and effectively using our integrated approach, so you will eventually see an end to your feral hog problem.
Hog removal is not an overnight solution. It can take anywhere from a couple of months to a year depending on the size of the sounder (group of hogs). It takes time to bait feral hogs in such a way to successfully trap the entire sounder. We are proud to say that we have a 100% success rate, so you can be sure that, although it takes time, we will be successful with your hog removal project. Reach out today with any questions you might have.
---
At Swine Solutions, we offer hog removal services in Riverview, Tampa, Brandon, Wesley Chapel, Valrico, Wimauma, Lutz, Land O' Lakes, Wiregrass, Meadow Point, Parrish, Lakewood Ranch, Bradenton, Sarasota, Venice, Myakka, Englewood, Kissimmee, Orlando, Clermont, and Davenport, Florida.
Similar Services We Offer: