You can be sure we will achieve 100% success in your hog removal.
Hog removal is not a task you should tackle on your own. Wild hogs can weigh 300 lbs. and have powerful jaws made for digging and cracking. They can do a lot of damage to your property and pose health risks to you and everyone else. If you need hog removal in or near Tampa, Florida, help is just an easy phone call away. At Swine Solutions, we have been performing professional hog removal in the Tampa area since 2006.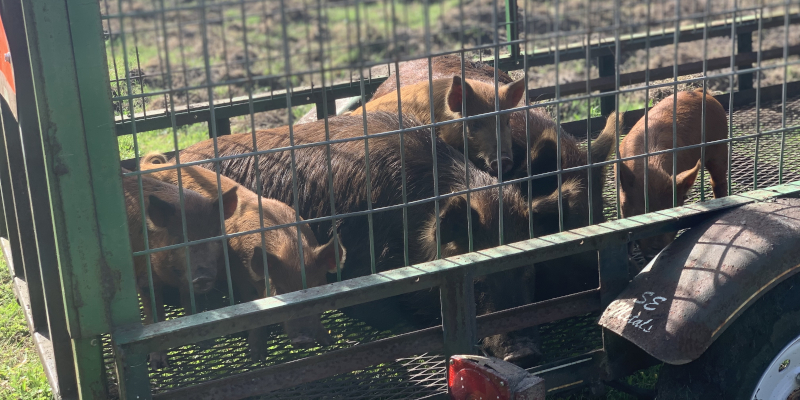 We can complete hog removal in subdivisions, urban areas, golf courses, parks and anywhere else as needed. Here are some of the effective hog removal strategies we have developed:
Technology: We use GPS and mobile camera technology to better assess and monitor your property.
Hunting: Our trained K9s are our primary hunting method. We will never use firearms to protect the wellbeing of the people on your property.
Monitoring: We will monitor cameras around the clock as needed, but we will also visit your site for regular inspections (usually 2 to 4 times a week).
Trapping: Baited traps can be highly effective to catch groups of hogs.
Each property is different, which is why we will conduct a thorough site assessment before we create a personalized plan for your hog removal. We will assess the layout of your property and the number of hogs in the local population. This will help us determine how to proceed. Don't wait around for your hog problem to resolve itself because it won't. They reproduce quickly and are reluctant to leave an area once they move in. Call today if you have any questions or want to schedule your property assessment.
---
At Swine Solutions, we offer hog removal services in Riverview, Tampa, Brandon, Wesley Chapel, Valrico, Wimauma, Lutz, Land O' Lakes, Wiregrass, Meadow Point, Parrish, Lakewood Ranch, Bradenton, Sarasota, Venice, Myakka, Englewood, Kissimmee, Orlando, Clermont, and Davenport, Florida.
Similar Services We Offer: