Let us help you regain peace on your property.
As the Kissimmee, Florida area continues to grow, so does the issue with wild hogs. If left alone, these hogs will continue to cause damage to the environment and the economy. However, at Swine Solutions, we've developed an effective strategy for hog removal using innovative technologies, such as night vision cameras, specially trained dogs, and unique trapping systems. Continue reading to learn more, then contact our team to see how we can help you.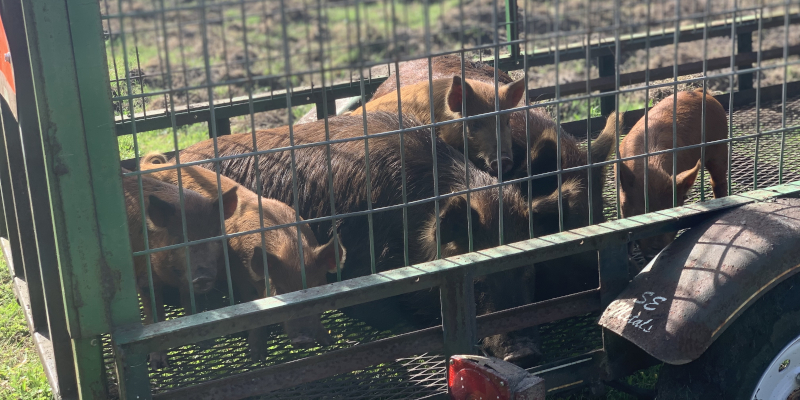 We've developed a system that allows us to watch and track wild hog populations using infrared technology. This lets us monitor without being seen and develop a customized hog removal plan. Our night vision cameras provide footage 24 hours a day, 7 days a week, allowing us to understand the hog's patterns, how large the group is, and more. This method is non-invasive and provides vital information for successful removal.
Our team has over 15 years of experience with hog removal. During that time, we've trained a team of dogs to assist us with our endeavors. Why dogs? Dogs have an excellent sense of smell, letting them follow wild hogs' scent over long distances and through different types of terrain.
In addition, our dogs can find hogs without hurting them, which makes catching and relocating them more humane.
We also utilize specialized hog removal traps that allow us to catch every pig in the group and move them out of your area. Also, these traps are made to catch multiple hogs at once in a stress-free manner, making it easier for the hogs.
Innovations in wild hog removal have allowed us to be on the cutting edge of this necessary service. Contact our team today if you're concerned about a wild hog issue in your development or on your property.
---
At Swine Solutions, we offer hog removal services in Riverview, Tampa, Brandon, Wesley Chapel, Valrico, Wimauma, Lutz, Land O' Lakes, Wiregrass, Meadow Point, Parrish, Lakewood Ranch, Bradenton, Sarasota, Venice, Myakka, Englewood, Kissimmee, Orlando, Clermont, and Davenport, Florida.