Our hog removal services are thorough, safe, and discreet.
The first time you see a wild hog in your neighborhood or on your property, you might think it's a harmless addition to the local wildlife and not something you need to worry about. Unfortunately, the reality is that wild hogs are extremely destructive creatures, and where there's one, there are likely several or even dozens more. Hogs also only move on from an area once they've run out of food. Since they're omnivorous, that means that unless you hire a hog removal company, they'll hang around until they've stripped your property of everything edible. Thankfully, our team here at Swine Solutions is ready to provide the hog removal services you need to take back your property.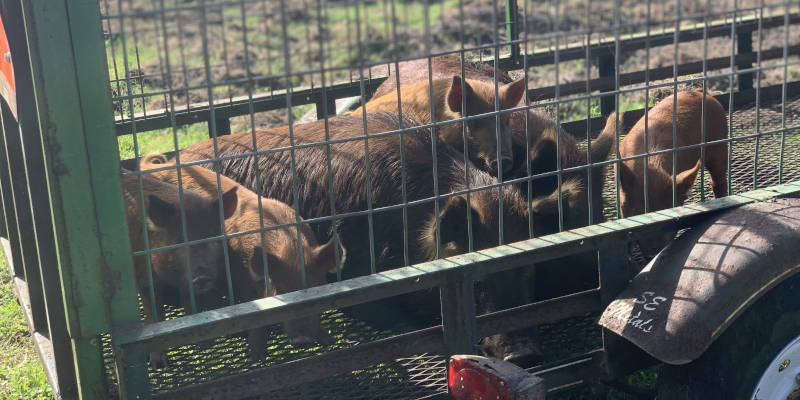 Our team uses a range of equipment to bait, trap, and remove hogs from your property, along with careful monitoring to ensure that we get the entire population. Just a single breeding pair of hogs can replenish the population in a short amount of time, so we take great care to ensure that our hog removal services are extremely thorough. Your safety is important to us, so we never use firearms or tranquilizer darts of any kind. Instead, we rely on advanced cameras, traps, and specially trained K9s for hog removals. Our hog removal services include 24/7 digital trap monitoring as well as in-person visits from our team two to four times per week to make sure we're making good progress with your hog removal.
With over 15 years of hog removal experience, we're proud to say we have a 100% success rate and a long line of satisfied customers. If you need a hog removal company to rid your Davenport, Florida property of these invasive hogs, don't hesitate to contact us.
---
At Swine Solutions, we offer hog removal services in Riverview, Tampa, Brandon, Wesley Chapel, Valrico, Wimauma, Lutz, Land O' Lakes, Wiregrass, Meadow Point, Parrish, Lakewood Ranch, Bradenton, Sarasota, Venice, Myakka, Englewood, Kissimmee, Orlando, Clermont, and Davenport, Florida.