Wild hog removal has become even more important with growing developments and gradual loss of agricultural fields and habitat in the Tampa area.
The first wild hogs were introduced to the Florida area as early as the 1500s. For many years, they didn't create much of an issue for the residents of Florida because there were plenty of wide-open spaces for them to live. As cities and towns have grown and property developments have increased, the habitat and agricultural areas where the wild hogs lived has decreased. If you are a property manager or landowner, it is important to know that wild hogs will not willingly leave the area once they have established themselves. If you notice signs of a wild hog population, like rooting, trampling, wallowing or defecating, give us a call here at Swine Solutions. We have been performing professional wild hog removal in and near Tampa, Florida since 2006.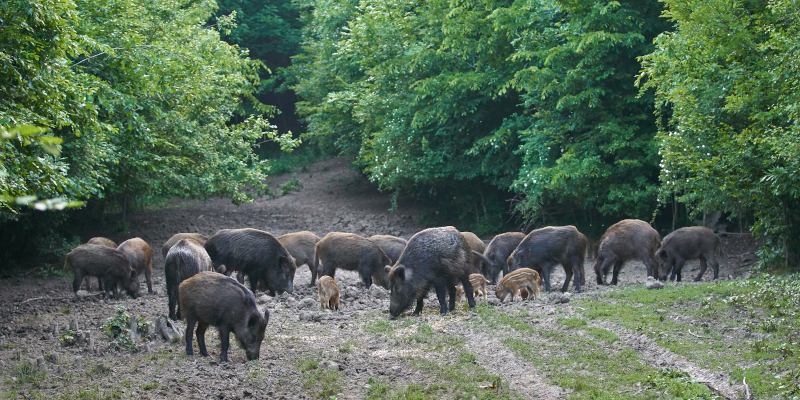 When wild hogs are living in an area, there are quite a few risks to the people in that area:
Property damage caused by the rooting and trampling behaviors of the wild hogs
Potential health risks due to diseases the hogs could be carrying and the likelihood of them contaminating water sources
They can harm pets, native species and even occasionally people.
Wild hog removal is not a good candidate for a do-it-yourself project. It can take a couple of months to a year to get rid of the entire group of wild hogs. If you only remove a portion of the local population, their reproductive rate is so high that the group will quickly replenish itself. A mature sow can have 1 or 2 litters a year, resulting in up to 24 piglets. With numbers like those, you can see how quickly a small wild hog problem can because a major wild hog problem again.
Wild hogs do not leave an area on their own once they are established and will root up the whole area looking for food. That means successful wild hog removal requires patience, planning and determination. We start with a property assessment so we can evaluate the layout and number of hogs in your property area. We use a combination of strategies, including camera technology with night vision, baited traps, and hunting with trained K9s. Because we usually work in suburban or urban areas, we do not use firearms to maintain the utmost safety and discretion.
We have years of experience with a variety of property types. We can help landowners, property managers, homeowner's associations, land developers, golf courses, country clubs, community groups, land preserves and parks. Wild hogs are good at avoiding humans and are often intelligent and shy, but our proven methods have yielded a 100% success rate in the Tampa area. We are fully insured for liability, which is good when you are dealing with a group of 300-lb. animals.
Call us to discuss any questions you may have. We can set up an appointment for your property assessment. Once we have assessed your property, we can work on a plan for your unique needs and situation. Without wild hog removal, you run the risk of experiencing costly property damages and potential health and safety risks.
---
At Swine Solutions, we offer wild hog removal services in Riverview, Tampa, Brandon, Wesley Chapel, Valrico, Wimauma, Lutz, Land O' Lakes, Wiregrass, Meadow Point, Parrish, Lakewood Ranch, Bradenton, Sarasota, Venice, Myakka, Englewood, Kissimmee, Orlando, Clermont, and Davenport, Florida.