We are proud of our 100% success rate with wild hog removal.
Most people have heard about how chimpanzees and dolphins have high intelligence, but did you know that pigs actually rank between them as the second smartest animal on the planet? That intelligence can come in handy when you are trying to teach one a skill, but when it comes to effective wild hog removal, it doesn't make it easy! At Swine Solutions, we have learned a thing or two over the past 15 years, so we are able to outsmart the little devils with our 100% effective wild hog removal strategies.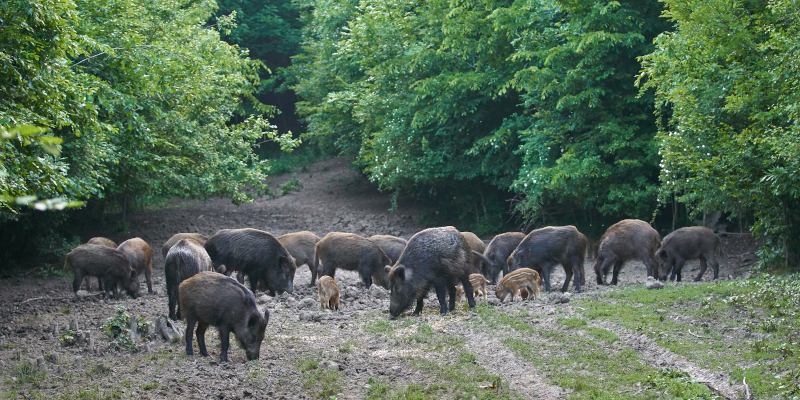 We work with homeowners, HOAs, golf courses, country clubs, community groups, and others who require wild hog removal to end the damage they do with their constant rooting. If you are experiencing damaged sod, uprooted bushes and other landscaping, damaged sprinklers, destroyed water lines, or decimated crops, reach out to us to get started with wild hog removal.
Wild hogs aren't just a nuisance that causes over a billion dollars of damage in the United States annually. They also pose a safety and health hazard. While wild hogs don't normally attack people or pets, they will become aggressive if they feel threatened, trapped, or to protect their offspring. When you consider that a wild hog can run up to 30 miles per hour and that they can weigh more than 200 pounds, that isn't something you want to battle with.
If you would like to learn about our effective wild hog removal methods, including using trained K9s, baiting and trapping, and night vision GPS camera systems, reach out to us today.
---
At Swine Solutions, we offer wild hog removal services in Riverview, Tampa, Brandon, Wesley Chapel, Valrico, Wimauma, Lutz, Land O' Lakes, Wiregrass, Meadow Point, Parrish, Lakewood Ranch, Bradenton, Sarasota, Venice, Myakka, Englewood, Kissimmee, Orlando, Clermont, and Davenport, Florida.