When performing wild hog removal, we set our standards high.
Wild hogs are a rapidly growing problem, impacting communities and property owners located throughout the nation. Here in Wesley Chapel, Florida and the surrounding area, many people know about this problem and deal with its effects. What you may not know is that wild hogs are not native to the U.S. They're also classified as an invasive and undesirable species, These animals can cause significant destruction to both manmade and natural environments. They can also carry and spread diseases and even attack humans if they feel threatened.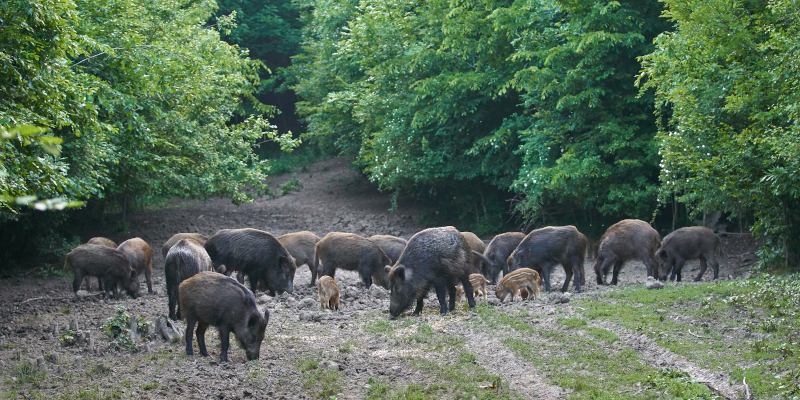 At Swine Solutions, we understand this problem and the ongoing issues it can cause. The presence of these bothersome creatures can threaten your health and safety, as well as the condition of your home and surrounding property. Unless you are an experienced hunter, you probably won't be happy at the sight of wild hogs on your property. We can take care of this issue, as wild hog removal is one of our areas of expertise. As our business name suggests, we can remove these invasive mammals with customized solutions. Our team members use GPS cameras, trained K9s, night vision devices, and other methods to eliminate the hog problem that is threatening your safety and property.
When performing wild hog removal, we set our standards high. With more than 15 years of experience, we are proud to be part of the solution for the invasion of wild hogs. Our team members will also maintain discreetness when performing wild hog removal, and the hogs we remove are sold to processing facilities or donated for their meat.
---
At Swine Solutions, we offer wild hog removal services in Riverview, Tampa, Brandon, Wesley Chapel, Valrico, Wimauma, Lutz, Land O' Lakes, Wiregrass, Meadow Point, Parrish, Lakewood Ranch, Bradenton, Sarasota, Venice, Myakka, Englewood, Kissimmee, Orlando, Clermont, and Davenport, Florida.