If you are experiencing feral hog damage on your property, you need an effective and long-term solution.
Feral hogs are not native to the area near Wesley Chapel, Florida. They have, however, been in Florida for a long time, ever since the Spanish explorers released them. As their population has increased over time and the amount of wild land has decreased, they have become more of a problem for communities, land developers, HOAs, property owners and more. If you have noticed feral hog damage on your property, it is important to understand that this is not a problem that will just go away or get better on its own.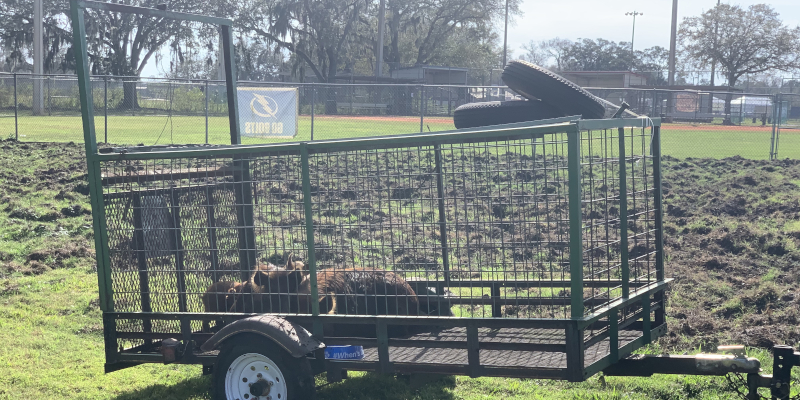 Here are some facts to know about feral hog damage:
The damage can escalate quickly. A single group of feral hogs usually includes over 20 individuals but can total more than 100.
A group of feral hogs can damage an entire acre of land in less than an hour with their rooting, digging and other behaviors.
It is estimated that feral hog damage can total more than $1.5 billion a year. This damage can affect residential properties, commercial properties, agricultural farms and even protected forests and other natural land.
At Swine Solutions, we have seen firsthand the damage that a group (called a sounder) of feral hogs can cause. We have seen this feral hog damage in carefully manicured and maintained yards, pristine golf courses, public parks and even cemeteries. Beyond the damage they can cause, feral hogs can also pose health risks from diseases they carry and the potential to be dangerous if they feel threatened or cornered. Call us today for effective, long-term solutions to your feral hog problem.
---
At Swine Solutions, we can help with feral hog damage problems in Riverview, Tampa, Brandon, Wesley Chapel, Valrico, Wimauma, Lutz, Land O' Lakes, Wiregrass, Meadow Point, Parrish, Lakewood Ranch, Bradenton, Sarasota, Venice, Myakka, Englewood, Kissimmee, Orlando, Clermont, and Davenport, Florida.