If you're tired of dealing with feral hog damage, we can help.
If you're tired of dealing with feral hog damage around your Clermont, Florida property, our team at Swine Solutions is here to help you. We've been removing feral hogs for over 14 years, using innovative strategies to keep you and your property safe. With a combination of GPS cameras, specially trained K9s, carefully placed traps, and other technology, we can help catch and remove feral hogs that are causing problems for you.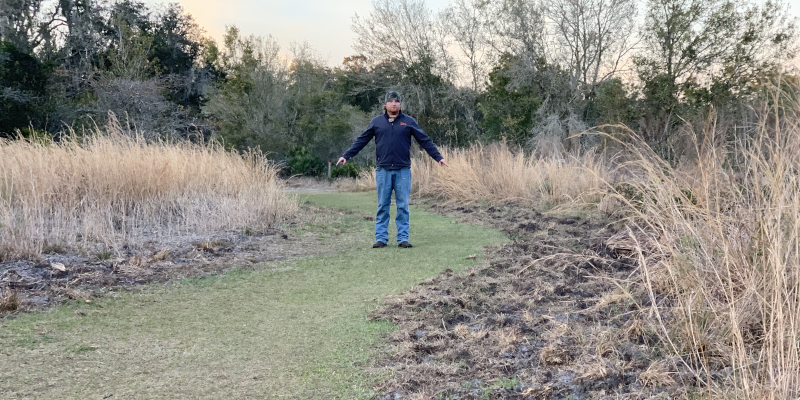 One of the most common and easily identifiable examples of feral hog damage to a property is rooting. Feral hogs root when looking for food, using their tusks and snouts to gouge the ground and search the top layer of soil for roots, insects, and other food sources. Many people are amazed by the damage feral hogs can do to a lawn, agricultural field, or other areas in a short period of time. If feral hogs root in your lawn or flower beds, they can puncture or dig up your irrigation or sprinkler lines if you have them in place, causing even more damage when they burst the water lines. They can also wreak havoc on fences and other landscaping in their search for underground food.
Other common examples of feral hog damage include crop loss, vehicle damage, tree and forest loss, and damage to other native species populations. Additionally, feral hogs are known to carry at least 30 different viral and bacterial diseases, making them a significant health risk for anyone near where they have taken up residence.
When you're ready to stop dealing with feral hog damage around your property or community, contact our team to learn more about how we can assist you.
---
At Swine Solutions, we can help with feral hog damage problems in Riverview, Tampa, Brandon, Wesley Chapel, Valrico, Wimauma, Lutz, Land O' Lakes, Wiregrass, Meadow Point, Parrish, Lakewood Ranch, Bradenton, Sarasota, Venice, Myakka, Englewood, Kissimmee, Orlando, Clermont, and Davenport, Florida.