We are very thorough with feral hog trapping and will make sure we trap the entire group.
Most wildlife trapping is a relatively simple affair with the offender being trapped and relocated within a few days. That isn't the case when it comes to feral hog trapping. It wouldn't take a great deal of time to remove one feral hog, but that wouldn't solve your problem. The others in the group will continue to breed, and your problem will continue to worsen until the entire group is trapped and removed from your Tampa, Florida property.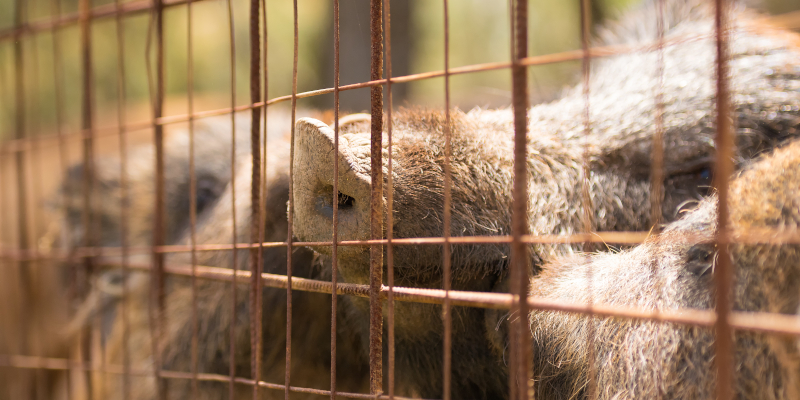 At Swine Solutions, we are very thorough with our feral hog trapping. We assess the situation and devise a plan that will capture all the feral hogs for removal. We utilize a GPS camera system with night vision and a baiting method so the feral hogs become comfortable with the feed area and we learn their habits. We do not put out traps immediately because feral hogs are very intelligent and shy of traps. Pigs are some of the most intelligent animals on the planet, so it takes an experienced, patient, and dedicated feral hog trapping professional to outsmart them.
We are proud to say that we have enjoyed a 100% success rate using our feral hog trapping method. By trapping an entire sounder (the name for a group of feral hogs) rather than just a few individual animals, we provide a complete solution to avoid future feral hog damage.
If you are experiencing feral hogs on or near your property, reach out to us today to learn more about our feral hog trapping service. The sooner you call, the better, because feral hogs breed fast!
---
At Swine Solutions, we offer feral hog trapping services in Riverview, Tampa, Brandon, Wesley Chapel, Valrico, Wimauma, Lutz, Land O' Lakes, Wiregrass, Meadow Point, Parrish, Lakewood Ranch, Bradenton, Sarasota, Venice, Myakka, Englewood, Kissimmee, Orlando, Clermont, and Davenport, Florida.