Our feral hog trapping services are effective and discrete.
Feral hogs are among the most persistent invasive wild animals in Florida. Packs will settle into a roughly 6-square mile territory and make themselves at home, and once they've decided they want to live somewhere, it's nearly impossible to get them to leave unless you're a trained professional who understands how to trap and remove them. If you live in the Clermont, Florida area and need feral hog trapping services, you can count on our team here at Swine Solutions. We're feral hog trapping experts who have the knowledge and equipment to rid your property of these destructive, dangerous pests.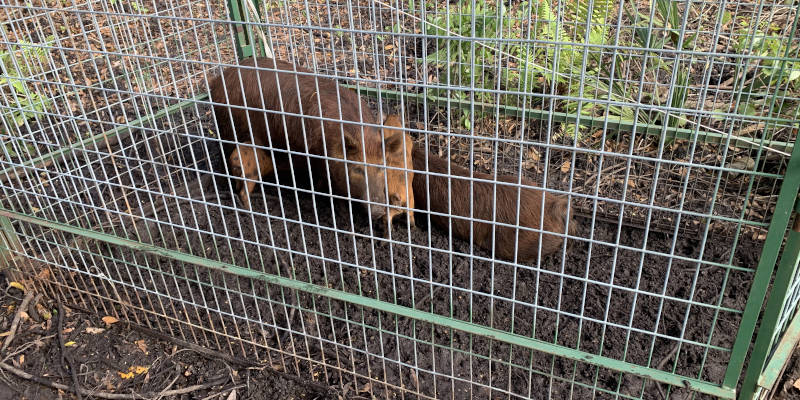 Until you've experienced the extent of the damage they can do, feral hogs might not seem like a huge issue. However, you'll quickly realize that they can destroy your lawn, landscaping, fences, or crops in a matter of days with their rooting. By enlisting our feral hog trapping services as soon as you're aware of their presence, you can protect your property and keep your family and guests safe.
Because feral hogs tend to be secretive and are extremely adaptable, finding and trapping the entire population can be tough. Our team has been in the feral hog trapping business for years, and we understand how to track down and trap even the most elusive of hogs. With the help of sophisticated equipment like GPS trackers, night vision cameras, and highly trained k9 teams, we're able to provide feral hog trapping services that are as discrete as they are effective. While we can't promise overnight results, you can rest assured that our dedicated team won't quit until every hog has been removed from your property.
Don't let feral hogs take over your property. Contact our team today to learn more about the feral hog trapping services we offer.
---
At Swine Solutions, we offer feral hog trapping services in Riverview, Tampa, Brandon, Wesley Chapel, Valrico, Wimauma, Lutz, Land O' Lakes, Wiregrass, Meadow Point, Parrish, Lakewood Ranch, Bradenton, Sarasota, Venice, Myakka, Englewood, Kissimmee, Orlando, Clermont, and Davenport, Florida.