If you want your feral hog problem to end, you need experienced and determined feral hog trapping professionals.
With some creatures, you can set out a trap and catch them almost immediately. Feral hogs, however, are incredibly intelligent and extremely cautious of traps and humans, so feral hog trapping takes a great deal more effort, patience, and time. This is especially true if you are to achieve the goal of trapping every pig in the group. This is absolutely necessary because if a breeding pair is left behind, they'll readily bring new piglets into the world.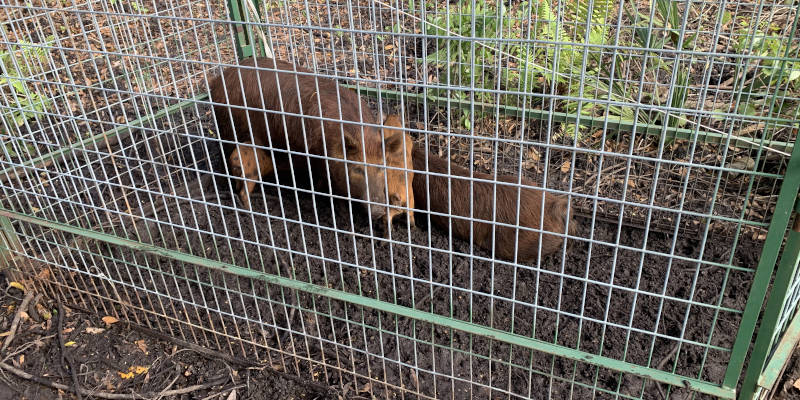 If you want your feral hog problem to end, you need experienced and determined feral hog trapping professionals. At Swine Solutions, our system achieves a 100% success rate, although it can take several months to reach the important goal of total removal of the feral hog population on your Orlando, Florida property. We don't stop until the project is done, so you can go back to enjoying your property without the damage that feral hogs are known to cause.
The longest part of the process is getting the entire group to see our trapping area as a safe place to be. We use a baiting system that gets them comfortable with a reliable food source before we ever move into the feral hog trapping phase. If we do not take our time with this process, we'd only capture some of the group. While our system does take time, it is the only way to ensure success.
If you have a feral hog problem or suspect they are in the area due to seeing damage, reach out to us to arrange an assessment appointment and learn more about our feral hog trapping process.
FAQs About Feral Hog Trapping
We think it is safe to assume that most people know little to nothing about feral hog trapping, but if you need our services, we want to provide you with sufficient information so you are never in the dark about our process. Below, we have answered some questions that we get frequently.
How do you trap feral hogs?
Before we begin trapping feral hogs, we use bait to lure them in and get them comfortable. Then we set up various state-of-the-art technologies like GPS cameras and night vision to monitor the traps and your property 24/7. When we are on site, we may hunt the feral hogs with the help of trained K9s. You can also expect a Swine Solutions representative to inspect your property about 2 to 4 times a week for the duration of the process, but we may adjust this depending on how large your hog population is.
How long will the process take?
We know that feral hogs are a danger and nuisance to you and your property, which is why we take the time to deal with the problem thoroughly. We aren't able to give an exact answer to this question, since it will depend on your property and how many feral hogs there are, but it usually takes a few months. However, you don't need to worry. We provide our services on a monthly retainer so you can rest assured that we will be available to you to help resolve your feral hog problem as quickly as possible.