When wild pigs take over your property, turn to our expert team to have them removed.
Having wild pigs on your property might not seem like a huge problem at first, but it will soon become clear that these pesky invaders can cause all kinds of trouble if they're not dealt with quickly. When a group of them decides your property is the perfect new home, don't hesitate to contact us here at Swine Solutions for wild pig removal services. We've been helping customers reclaim their property and deal with these destructive animals for over 15 years, and we would be happy to assist you.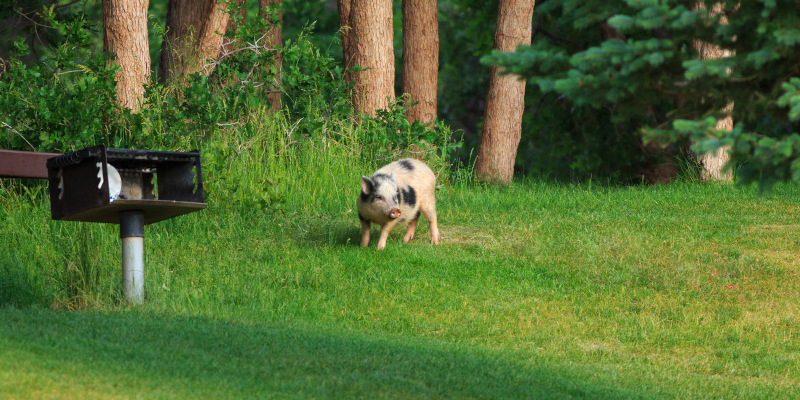 Wild pig removal is essential for several reasons. Because they have no natural predators here, wild pig populations can quickly get wildly out of control. They're also omnivorous and root around for their favorite foods, so they'll churn up your yard, crop fields, and any other outdoor areas in their endless search for food. Although they tend to be very reclusive and shy, they can be aggressive when provoked or cornered, making them a safety hazard for anyone in the area. Wild pigs can also carry a variety of diseases that are transmissible to humans.
Our wild pig removal system is designed to be as discreet as possible while also being extremely effective. We use state-of-the-art equipment like cameras, GPS tracking, traps, and more to monitor and remove wild pigs. We also have specially trained K9 units that assist us with tracking and trapping wild pigs, but because safety is a top priority for us, we never use firearms or tranquilizer darts.
If you need a professional wild pig removal company you can depend on to find and remove every last pig from your property, turn to us. We proudly serve the Davenport, Florida community and surrounding areas, so reach out today to learn more or get started.
---
At Swine Solutions, we offer wild pig removal services in Riverview, Tampa, Brandon, Wesley Chapel, Valrico, Wimauma, Lutz, Land O' Lakes, Wiregrass, Meadow Point, Parrish, Lakewood Ranch, Bradenton, Sarasota, Venice, Myakka, Englewood, Kissimmee, Orlando, Clermont, and Davenport, Florida.